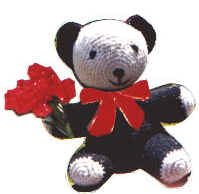 Book 176. Christmas Decorations
Williamsburg's Folk Art Collection

This hard cover book contains easy to follow

Instructions for making 90 decorations

many based on traditional folk crafts.

Directions, drawings, color or black and white close-ups

for you to create these Christmas tree decorations.


(click on images for larger photos)


Felt Clown
Feather Star
Burlap Animals
Yarn Doll
Clothespin Cardinal
Penny Rug Designs
Korean Needle Case
Cookie Cutter Stuffed Ornament
Apple
Cornhusk, Yarn and Lace Angel
Sand Dollar and Starfish
Pinecone Angel
Cornhusk Flower
Popcorn and Red Pepper String
Baling Twine Wreath
Yankee-Doodle Peanut Man
Teasel Butterfly
Nut People
Cornshuck Pig
Walnut Owl
Shell Wreath
Burr Christmas Tree
Welsh Border Fan
Hemlock String
Pine Needle Man
Needlepoint Sheep
Knitted Yarn Ball
Needlepoint Cornucopia
Crocheted Snowflake
Sandpaper Man and Reindeer
Paper Silhouettes
Paper Stars
Jumping Jack Doll
Wood Carvings made simple
Clothespin Soldier
3 Wise Men
Blown Egg in macrame holder
Clothespin Doll
Molded Salt Dough Ornament
Plus more Folk Ornaments

Dolls YOU make - Instructions for several dolls patterns, sewing and stuffing, dressing,
Doll stands, Faces with features, Stitches and Ideas
Includes Corn Husk Doll, Paper Doll, Peg Doll, Peddler Doll,
Apple Doll, Jumping Jack Doll, and Reversible Doll
And more!!


Price: $29.95

includes Postage, Fuel Surcharge and Envelope costs

Will mail to Canada and U.S.A. only!