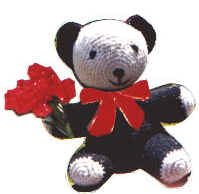 Free Pattern for Crochet Christmas Card Trim with Hanger

This is so nice for displaying a favorite Christmas Card




(click on above image for larger photo)

         
Materials:  2:50 mm crochet hook
                   red worsted weight yarn 
                   your favorite christmas card & hole punch 

Take your favourite christmas card, punch holes along the edges,
make sure there is a hole in the corner for the corner stitches 
as below. 

Rnd 1: With red, join in any punched hole. 
   *Sc along in each punched hole to corner; 
    3sc in corner hole. Continue from * around card.
Rnd 2: * (Sc, ch3, sc) in next sc from prev rnd.
       Skip next sc. Repeat from * around. End off.

Hanger: Sl st into top center sc, ch 10, sl st into same sc.
                End off. Darn ends in.

If cards are to hang where both sides are visible,
then put two cards cut to the same size together.
Punch holes through both and trim as above. 
This is great if you are hanging cards on a tree.


Another "crochet 4 you.com" crochet pattern

Every effort has been made to have the crochet instructions accurate and complete.

We cannot be responsible for variance of individual

crocheters, human errors, or typographical mistakes

---

Print This Page

---

For more decorating ideas check

the Christmas Pages here...