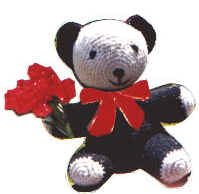 McCalls Christmas Magazine 22
90 Great Projects
Crochet and Knitting Patterns

Click on any image for larger photo

Crochet and Knitted Tree Ornaments
Crochet Place Mats, Runner, Hot Mat and Casserole Mitt with Stenciling
Knitted Stocking with Stenciled Angel
Crochet Stocking with Appliqued Penguin
Easy to Crochet Patterned Stocking
Aran Knit Cables Stocking
Appliqued on Crochet Tree Skirt
Appliqued on Crochet Afghan
Appliqued on Crochet Christmas Tree Trimmings
Spiraled Crocheted Christmas Tree
Crocheted Tablecloth
Knitted Wreath
Crocheted Loop Stitch Wreath
Braided Hat and Scarf Set
Crocheted Shawl
Easy Knit Shawl
Hats with attached Cowls and matching Gloves
Little Girls Crochet Pullover
Little Girls Knit Pullvoer
Fair Isle Pullover with matching Hat and Mittens
Fair Isle Cardigan with matching Hat and Mittens
Teens Pullover
Teens Geometric Design Pullover
Mens Plaid Hunting Mittens, Hat and Scarf Set
Mans Knit Tie
Mens Knitted Socks
Take along Afghan
Mans Houndstooth Vest
Childs Knitted Fair Isle Helmet
Childs Knit Aviator Helmet
Knit Giraffe Scarf, Hat and Mittens Set
Puppies Scarf, Mittens and Hat with Earflaps
Childs Crocheted Pinafore
Fair Isle Knit Baby Blanket
Knit Babys First Stocking
Three Knitted Bib and Bootees Sets
Knitted Gingerbread Holiday Card Holder
Crochet Advent Calendar
Covered with Crochet Basket
Knit Dog Sweater
Crochet Rug
Crochet Dog Stocking
Knitted Cat Stocking
Dolls (18" soft sculptured) Striped Knit Pullover, Hat and Pants Set
Dolls (18" soft sculptured) Textured Knit Dress
Dolls (18" soft sculptured) Aran Fisherman Crochet Sweater, Hat and Pants Set
Dolls (18" soft sculptured) Fisherman Knitted Sweater, Hat and Pants Set
Fashion Sweaters and Dresses for 11½" Dolls

Dated Year 1985

Shows wear; Torn along spine; Bends; Tears

Good for those not worried about condition of Magazine...

But want these Wonderful Patterns

96 pages

Price: $19.95

includes Postage, Fuel Surcharge, Envelope costs to Canada & U.S.A.

Please Email for international postage price!