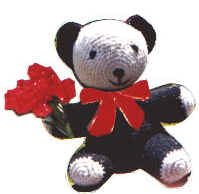 Phildar 1980. Afghans and Wall Hangings
Afghan Crochet and Knitting Patterns
Wall Hangings to Weave

Click on any image for larger photo

Triangles Knit Afghan
Square Motif Crochet Afghan and Square Pillow
Striped Ripple Crochet Afghan and Pillow
Knit Afghan
Embroidery on Afghan Stitch Blanket
Square Motif Afghan
Striped Crochet Afghan
Woven Afghan and Pillow
Embroidered Flowers on Afghan Stitch Panels
Knitted Wavey Stripes
Aran Knit Style Blanket
Knitted Square Pillow
Crocheted Shells Afghan
Flowered Embroidery Afghan
Ripple Crochet Afghan
Striped Crocheted Shell Afghan
Motif Blocks Crochet Afghan
Six sided Motif Crochet Afghan
Sampler Knit Afghan
Oblong Knit Pillow
Crochet Motif Afghan
Knitted Afghan
Granny Square Lap Blanket
Woven Afghan
Bobble Square Crochet Motif Afghan
Striped Crochet Afghan
Ripple Crochet
A Few Woven Wall Hangings as shown
Landscape Woven Wall Hanging
Round Wall Hanging

Dated Year 1980

NOTE! Show some wear

Writing on a page does not affect reading of pattern

Some patterns have charts to follow

66 pages

Price: $24.95

includes Postage, Fuel Surcharge, Envelope costs to Canada & U.S.A.

Please Email for international postage price!