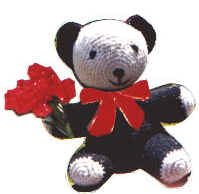 Handbag
Striped Handbag
Striped Sweater
Ladies Top
Fair Isle Vest
Blocked Effect Vest
Long Vest
Pullover and Hat
Deep V-Neck Cardigan
Long Jacket using Diagonal Stitch
Sailors Collar Jacket
Striped Sweater
Little Girls Dress
Waistcoat
Shorter Sleeved Cardigan
Long Sleeved Cardigan
Long Length Pullover and Hat
Jacket, Hat and Scarf Set
Houndstooth Check Jacket
Tartan Jacket and Hat
Longer Length Dress
Coat
Little Girls Coat
Blouson Jacket with Hat
Coat in Double Crochet; Trimmed with Reverse Stockinette Stitch
Gloves and Scarf
Mens Jacket
Young Boys Jacket
Young Boys Jacket
Mans Cardigan Jacket
Ladies Shawl
Larger Shawl
Tie in the Front Shawl
Babys Sleeping Bag and Coat Set in Afghan Stitch
Baby Coat
Baby Dress
Babys Angel Top
Afghan
Double Crochet Embroidered in Chain Stitch Pillow
Knots to a Simple Stitch Base Pillow
Afghan Stitch with Diamond Fair Isle Motif Pillow
Lampshade
Light Shade
Bed Spread
Woven Crochet Poncho

Dated Year 1979

NOTE! Show some wear

Some patterns have charts to follow

66 pages

Price: $24.95

includes Postage, Fuel Surcharge, Envelope costs to Canada & U.S.A.

Please Email for international postage price!