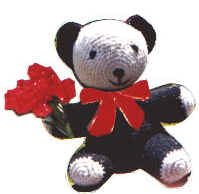 Woman's Day no 9. Granny Squares
Super Special - September 1981
Crochet Patterns

Click on any image for larger photo - NOT all patterns are shown

Peplum Crochet Jacket
Fashion evening Crochet Camisole with Cover-up
Little girls popcorn Bib for Dress
Variations of a granny square give 3 different Aran-type Sweaters
Mens argyle Pullover Crocheted Sweater
Giant motifs Crochet Afghan
Crochet textured Afghan
Ripples and granny squares Crochet Afghan
Crochet bobbles give a textured Bedspread
Crocheted hexagons Afghan
Diamonds & zigzag patterned Crochet Afghan
Crochet rose garden Afghan
Hexagon motifs for Throw with matching Pillow
Kettle holder Crochet Afghan
Scallops edge lacy motifs Crocheted Afghan
Circular motifs & lacy border heirloom Bedspread
Crocheted grid stitch Cot Cover
Filet Crochet Bed Cover
Crochet trimmed Shelf Borders
Lacy floral motifs for trimming Pillows
Pillow case edgings includes southern belle
Childs granny squares Top
Colorful Crocheted Cubes
Granny squares Toys
Potholders
Granny squares Handbag
Flower Baskets
Pin Cushions
Flowerpot Covers




NOTE! Front cover is worn & with bend marks

98 pages

Price: $19.95

includes Postage, Fuel Surcharge, and Envelope costs to Canada & U.S.A.

Email me for International Prices Thanks!