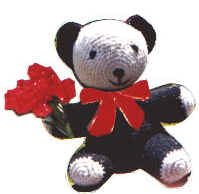 Woman's Day 23. Christmas Ideas for Children
Super Special Magazine Number 23
October November 1980

(click on image for larger photo)

Mini Mice On Stage
Holiday Orange Candles
Parasol Angels
Food For Kids
Cookie Gift Box
Doily Wreath
Madonna Wall Hanging
Fantasy Foil Castle
Fuzzy Angel Mobil
Fun Fuzzy Wreath
Soldier at Attention
Painted Folk Birds
Paper Trims
Seasons Greetings Christmas Cards
Santa Projects
Tree of Candy Angels
Snowbound Castle
Fun Frames for Photos
Nativity Wall Mural
Christmas Shield Craft
Bottle Figures
Christmas Wonderland Cookies and Treats
Bows and Things
Cotton Swab Crafts
Gift Wraps
Masks of the Three Kings
Snowman Bells
Castle and Village for your Mantle
Decorating with Eggs
Holiday Decorating on your Mirror
Candy Critters
Crafts from Cards
Holiday Gift Tree
Holly Santa Statue
Santa Circus
Ribbon Candleholders
Felt Case and Sachets
Play Clay Jewellry
And more!!!

Slightly worn along edges
114 pages

Price: $17.95

includes Postage, Fuel Surcharge and Envelope costs

to Canada and United States only

Email me for International Prices, Thanks!